So sad! Beloved actor Patrick Swayze lost his battle with cancer today. My heart goes out to his family, his friends, anyone that is truly missing him.

I bet there are over a million girls hearts breaking at the mention of your death. Your legacy shall live on through your work, you were a great entertainer. I have probably watched dirty dancing over 100 times since I was a little girl. It was my absolute favorite movie, I loved Johnny Castle!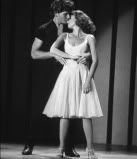 This is how you should and always will be remembered by me. I'm going to pull out my dirty dancing dvd, blow the dust off the cover and watch it in honor of you. Rest in peace.