When I was pregnant, I made a mobile out of felt animals for my baby's crib.
I drew the animals and trees (giraffe, coconut tree, owl, alligator, lion, bird, and lemon tree) onto felt and cut them out, then I sewed the ends together and stuffed them with cotton balls. To finish I closed the seams and sewed fishing line to the top of each one to hang them with.

I found a wreath at Ikea for 99 cents. I didn't like the way it looked with all the branches, leaves and flowers so I removed them and only used the base.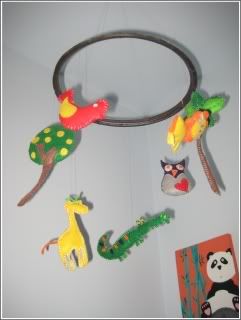 IKEA WREATH - 99 CENTS
FISHING LINE PURCHASED AT WALMART - $2
FELT SHEETS PURCHASED @ ACMOORE - 25 CENTS A SHEET = $2
NEEDLE AND THREAD - ON HAND
TOTAL
____________
$4.99 - NOT BAD FOR A DIY PROJECT!
My son is only 5 weeks old and sleeps in his bassinet in my room so it hasn't been used yet but I can't wait until he gets a lil older and appreciates it!